Hole in the Wall Gang Camp

Founded by actor Paul Newman, hosts children suffering from life-threatening diseases on its 300-acre site that includes a 44-acre pond, pool, wheelchair-accessible treehouse and a state-of -the art performance facility.

The June Norcross Webster Scout Camp
A 1200-acre facility, provides a camping experience for more than 1200 youths and a staff of 50 each summer.
The Salvation Army's Camp CONNRI
Hosting about 1,000 children as well as retreats for adults. This 268-acre facility sits on a hilltop and woodlands embracing a 50-acre pond.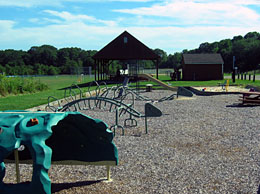 Ashford Memorial Park
Ashford's largest recreational area includes outdoor basketball courts, soccer, softball and baseball fields, a pavilion, a playground and hiking trails along the Mt. Hope River.
Farmer's Market
Ashford's Farmer's Market, seasonally open every Sunday, offers quality local fruit, vegetables, plants, honey, syrup and crafts at direct-from-the-farm prices.